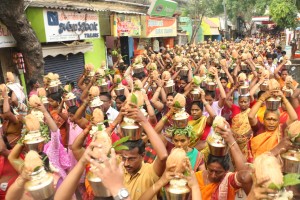 As a part of the Chithirai festival, the 1008 Paal Kudam ceremony was carried out at Mundagakanni Ammam temple, Mylapore. Although it was supposed to be 1008 milk pots, the number exceeded more than that and the devotees take part with great devotion.
Men, women and children were part of the group carrying the pots
on their head. They made a procession around the temple with the pots. The milk from the pots was then used to do abhishekam to the Amman and then distributed to the devotees.