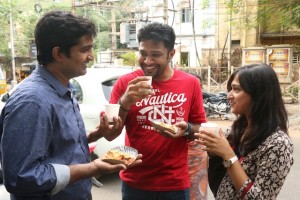 Food walks are getting popular, especially among the young. The Mylapore Food Walk held last Saturday evening drew a big crowd and it explored the food joints, mostly snacks spaces from Rayar's Mess to Kalathi's Newsmart, best known for its rose milk, and all the other popular joints in between.
The group also checked out some nooks which have come in for attention by those who don't live in that area. One such was a kadalai and thattai shop on Kutchery Road, opposite Senthil Softy, which is also a popular rose milk and fruit juices shop.
You don't have to wait for the next organized food walk,which is hosted by Chennai Food Walk group. Its co promoter Sridhar Venkataraman has charted a map which is useful and handy. It is at – https://www.facebook.com/events/1596296823954631/
You can use it – call up friends and explore the food joints any weekend.