Sensei C. Rajendran has a long association with karate spanning more than three decades. It began when he  was eight years old and living in San Thome.
Rajendran's father Chelliah is now 84 years and has moved to Karaikkudi in Sivagagai district. He runs a tea shop there. But, in his younger days he was a resident of San Thome. He moved to Chennai when he was 17; and ran a tea stall near present day MRC Hall. 
The area, in those days, was sparsely populated. The land behind the tea stall and his home was an empty stretch of sand with a few modest dwellings here and there. In one, a Manipuri man was teaching karate to interested youngsters from the area. Chelliah was taken by the sport and enrolled his sons to learn karate. 'He used to say that karate would soon become very popular and even if it didn't, it would be useful in self-defense' recalls Rajendran. The boys learnt there for two weeks, and then moved to St. Bede's coaching, under the teaching of Dr. Immanuel Rajasekaran, who lived in Abhiramapuram. Rajendran was then eight years old, and a student of Raja Muthiah School.
Rajendran's interest in karate strengthened when, by the time he was ten, he won some medals in inter-school and district competitions. His interest was supported and encouraged by his father and his master. When he was 15, Rajendran won his black belt. After completing his schooling, he joined BA History at Pachiappa College.
Simultaneously, Rajendran also started teaching. He worked at San Thome, DAV School, Church Park Convent among others. He recalls that in those times, late 80's, he would charge Rs. 30 per month per student. In a few years, the awareness about the sport grew and he was able to charge Rs. 50 per month. Then, in 1992 Rajendran got a big break when he was hired by the Saudi Arabian Indian School in Riyadh and coached the students there for more than five years.
After the tryst with Riyadh, Rajendran returned to India and continued teaching at schools in and round Mylapore. Now, his classes are held at Lady Sivasami Iyer Girls School and also at IMS (Institute Of Mathematics and Sciences, Tharamani) .
Rajendran met his wife Sumithra in Mylapore. It was love at first sight and the couple got married soon after meeting. Though she doesn't know karate herself, Sumithra is fully supportive of her husband and children's efforts.
Rajendran has three daughters – Abhinaya (class X), Nivethika (class VIII) and Lathikaa (class V). All three of them are students of Lady Sivasami Iyer Girls School and are proficient in karate. Right from their young age, his daughters have observed him teaching and got interested in the sport themselves. Rajendran began teaching them karate when they turned 5. The demo at schools, like breaking tiles, is done by his eldest daughter; who has been learning for more than seven years from her father.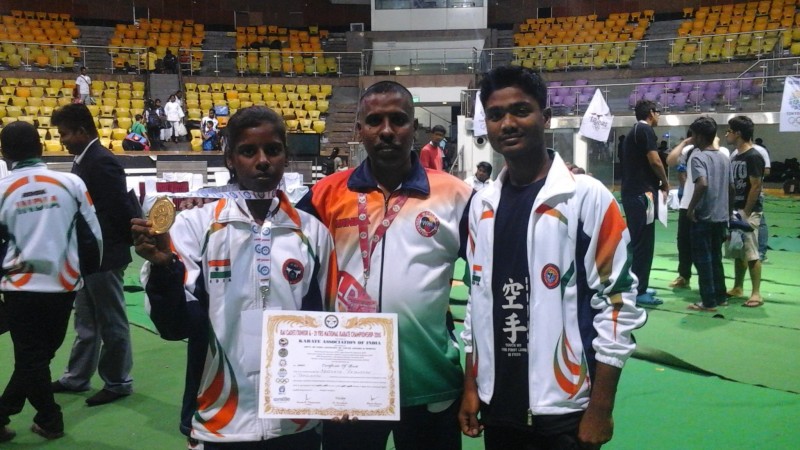 The sisters take part in competitions and meets around the country. Recently, they won medals at the Chennai Open Karate championships held on July 10, 11 12 at J. J.  Indoor stadium. More than 1500 competitors from all over India competed in the tournament. Abhinaya won the gold in the 14 to 15 years kata event; Nivethika Rajendran took silver in the 12-13 years kata event; Lathikaa Rajendran got the gold in the 10 -11 years kata event.
Abhinaya has won the gold medalist twice at national level. She participated in Commonwealth Championships to be held at Delhi in September and has also been selected to a part of the Indian team for the World championships to be held at Indonesia in November.
Rajendran is a proud father. He looks back at his career and recalls how he couldn't take part in international events like Asian Games or Commonwealth games, due to lack of finances and support for the sport in India. He hopes that his daughters be able to achieve what he couldn't; it is their wish too. The family dreams of them being able to participate in the 2020 Olympics to be held at Japan. The cost involved is a big concern for them though.
There are entry fees for the all the championships. And there are still further expenses, like travel, accommodation, the kit and more. The family is very thankful to Lady Sivasami school,  for extending their full support to them in making their dreams possible; and to Karate Thiagarajan for creating awareness about the sport.
Rajendran is also happy about the support and encouragement the girls receive from their school. Teachers Vasuki and Geeta are taking special care to ensure that the children don't miss out on studies and provide extra coaching and the head mistress of the school has also been there for Abhinaya at every step of the way. Every victory they receive is also celebrated at school, he says with a smile lighting up his face. 'I wish the government would take this sport seriously and provide us some support to take us further' says Rajendran wistfully. 'A championship ID card has been introduced by the government to medal winners, to enable us to use the government facilities to practise free of cost. This card has not reached us yet, I am trying all means to get this for Abhinaya'.
For details, contact C. Rajendran 8939581672.