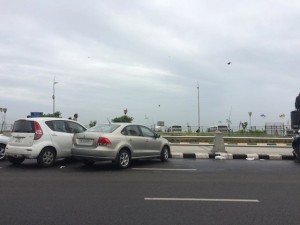 Two nights of light rain and Sunday morning has been the most pleasant in the city for sometime now. That atmosphere was best seen on the Marina.
There were fewer walkers and fitness regulars and you saw more of the rain-washed trees and shrubs.
The lawns looked fresh and a few beach-goers stopped to take a deep look at the soft skies and the shoreline.
The pavement still held thin sheets of rainwater and the steel rails shone.
On the beach service road, a tent frilled with buntings and balloons welcomed people to a community event; this place is a busy destination for campaigners and activists.
And the Sunday rush to the Nocchikuppam beach road side fish market had just begun.
The Light House though looked a tad duller this Sunday morning; perhaps shadowed by the grey skies.