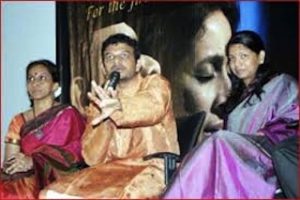 Carnatic music  artiste T. M. Krishna has been chosen to be decorated with the prestigious Magsaysay award for this year. He was chosen under the category of 'emergent leadership'. These are considered to be Asia's highest awards given to a set of people in community service, the arts and literature and in public work.
The committee which chose him for the award recognized Krishna 'for showing that music can be a deep transformative force in personal lives and in society'.
Krishna has veered off the classical Carnatic music path sometime ago, even changing the format of his concerts for which he has received attention and criticism. But his concerts continue to draw big audiences.
He has also expressed himself on social issues through media columns and in his talks and has been seen on community stages too.
He has also curated two music projects – one which gets youngsters to plan, manage and host music tests in a campus and thus make the fest their own. And one which hosts a fest inside a fishing colony in south Chennai where all forms of music and performing arts gets space in a community space and not in a sabha hall.
He resides in the neighbourhood.
File photo shows T M Krishna with vocalist Bombay Jayashri and DMK MP, Kanimozhi