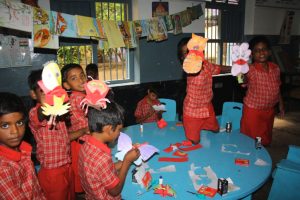 Vasavi Trust organised a puppetry workshop for the students of classes I to V at Sri Ramakrishna Centenary Primary School, a school which meets the educational needs of children from poor households in the Mylapore area, on Aug 8.
The workshop which dealt with increasing biodiversity awareness through puppets was conducted by Dr. R. Bhanumathi, managing trustee, Pavai Centre for Puppetry.
Children were visibly excited as they devised their puppets and own stories based on different themes and presented them in plays. Swami Satyajnanananda, Secretary, Ramakrishna Mission Students Home was a guest at the event.
Vasavi Trust is located at 73, Nattu Subbarayan Street, Mylapore. Email: vasavidevan@hotmail.com.