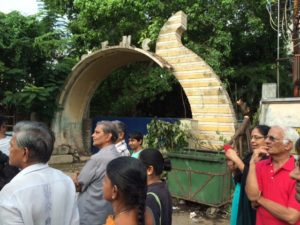 A group of heritage enthusiasts spent their Sunday morning on a Walk exploring landmarks and places of social and historical interest on the north side of the Adyar river. This was part of a project to hold a 'cultural mapping of the Adyar river'.
The group was led by writer and history-buff Venkatesh Ramakrishnan.
The group started at the garbage-filled area around the rusting gates of what used to be Oceanic Hotel, a neighbour of the popular Sangeetha restaurant.
Oceanic used to be a celebrated air-conditioned hotel where touring cricketers, actors and film stars and VIPs lodged and some great parties were hosted, a hotel which overlooked the sea – those were times when the sandy shore started off the main road.
The group also stopped by at other spots – Our Lady of Light Church, popularly known as saint Lazarus Church, Dhyana Ashram, once home to the Portuguese-time Madre de Deus church, a campus where the Vizianagaram place stood and later, film maker-producer AVM Chettiar made his first films, the old campus of Admiralty Hotel, Quibble island, created by the river's creek, the cemetery for Christians here and the zone where the famed Battle of Adyar took place.
The Walk was for about two hours and 25-plus people took part in it.
More info on this project is at – https://www.facebook.com/groups/1134654013224799/