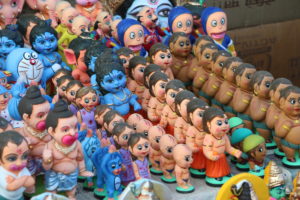 The hawkers are back. The men and women who sell dolls. This is Navaratri time and the face of North Mada Street has changed.
Dozens and dozens of hawker stalls from the Indian Bank end to the Mangollai end, some finding space on stairs and outside showcases. This is the Navaratri market; maddening to motorists, tempting for shoppers.
Outside Indian Bank's branch, hawker Veeramani has arranged all the images according to their size. Images of Shiva and Vishnu, the Dasavatram set . . . Dolls of Sankaranarayanar and of Gomathi amman are new this year, he tells us.
Outside the popular Vijaya Stores which also stocks dolls and decorations, hawker Jayashree has stacked plastic images of stools, chairs, fences, cars, slides and scooters, some of which sell for less than Rs. 10 a piece. "This is my spot and I am here every year." says Jayashree, who claims she has been hawking for over 15 years.
This Sunday evening, a group of children crowd around Jayashree's stall and take a good look at miniature pine and coconut trees to place in their 'park' alongside the kolu. "I have to make frequent trips to Parrys to get stock, they sell pretty fast during this time", she adds.
Further down, outside Hotel Saravana Bhavan, three men have parked their carts which are filled with fibre dolls. One of them, Teja Pilla, a group of friends and relatives are here from Vijayawada, to sell dolls. "We have rented rooms near the Sai Baba Temple," he says.
The smaller images sell for Rs. 20 while the bigger ones have a starting price of Rs. 500.
Nearby, middle-aged Aruna is shopping for ceramic dolls this season. "I prefer these dolls to clay or paper mache ones because you do not have to strain to maintain them", she says.
On this Navaratri street, our walk is interrupted by vendors selling turmeric sticks, packed in neat covers.
P. Manavalan, a native of Urapakkam, has set up his stall outside ICICI Bank. "We are four people in this business and have invested about a lakh," he told us. So where does he get his wares from? "From everywhere," he says, "Cuddalore, Vellore, Kanchipuram, Ulundurpet . . ."
Fast selling images at the stalls this year are the cricket set, Chota Bheem, the kili jyoshiam set, mottu patlu, the school set and swarga vaasal set, the girivalam theme, gadhotgajan set and the kumbakarna set.
North Mada Street gets crowded as the sun dips; most hawkers prefer to open for business late in the morning. And as we watch the scene, we notice that the window-shoppers are plenty and shoppers are choosy.