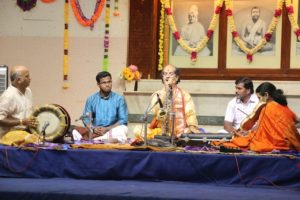 The Navaratri celebrations at Sri Ramakrishna Mission Students Home in Mylapore draws its residents into the festivities.
The Home is a place for boys who are less privileged and they reside as well as study here.
And for Navaratri, these youths have lots to get involved in, depending on assignments. The day starts with prayer, then a group take out a procession of the deity through the streets around the Home ( they repeat the procession in the evenings).
The boys are back in the evening to set the stage for concerts or discourses in the auditorium and guide guests. Most of them sit through the concerts or talks and some help to share the prasadam with guests.
Photo featured here is of the Navaratri concert at the Home's auditorium – by Kadri Gopalnath and A. Kanyakumari