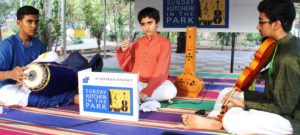 As part of the monthly Sunday 'Kutcheri in the Park' organised by Sundaram Finance, 12 year old Pranav Arcot, a Class VII student of Hari Shree Vidyalayam, R. A. Puram presented a lively vocal carnatic music performance at the Nageswara Rao Park, Luz on Mar. 5.
Pranav, who is learning music from Jeyasri Jeyaraj Krishnan, was accompanied on the violin by Vibhu Ravindran (Disciple of Lalgudi Srimathi Brahmanandam) and on the mridangam by A. Rohit (Disciple of Thiruvarur Sri Bakthavathsalam).
P. Viswanathan, company secretary, Sundaram Finance Ltd., presented certificates and mementos to the artistes.
Launched in Feb. 2006, the idea of the Sunday Kutcheri in the Park is to provide opportunities to young children aged 15 years and below to present in front of an informal park audience amidst chirping birds and falling leaves. Around 1100 children have presented kutcheris so far.
Sundaram Finance conducts auditions to select the artistes. To register, Email: sundaykutcheri@ sundaramfinance.in. Follow sunday kutcheri on facebook: facebook/sundaykutcheriinthepark.