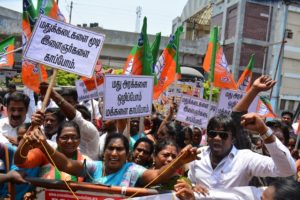 BJP party cadres and women folk hailing from Pallakkma Nagar took to the busy R K Mutt Road near Thirumylai station this morning to demand the closure of two TASMAC liquor sales shops along the Buckingham Canal here.
Both shops are located close to each other and its clients are primarily residents of this sprawling colony that stretches from the Canal side to the Luz Church Road side.
The shops were closed till noon and local police were posted at the protest site; the shops though will open for business later in the day, local residents said.
Meanwhile, Mylapore MLA R. Nataraj says that he has been writing to the excise minister, TASMAC undertaking and to the city Collector to close down these liquor shops. Though two shops have been closed so far ( one in R A Puram and another near Mandaveli MRTS station's rear side), the MLA says his argument is that a heritage zone like Mylapore must not have any liquor shops.
He says he is keen to see the two shops closed because liquor is destroying many families of this nagar. "The largest number of widow pensioners is from this nagar," said the MLA.
As the heat rises in the run up to elections to Chennai Corporation, political parties and their neighborhood units are keen to raise what they feel are 'hot' issues of the area and signal their intent in local politics.
BJP posters and wall graffiti can be seen at prominent places in the Mylapore area, obviously the work of party cadres who hope to get a ticket at election time.