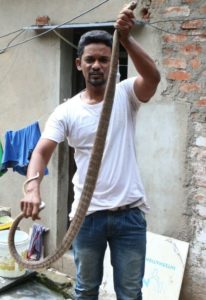 Auto driver M. Vijayakumar, a resident of Subbarayan Salai, near Visalakshi Thottam, Mylapore has a unique side hustle. He is the go-to person when snakes enter residents' homes in his patch of Mylapore. Or beyond.
Recently, he managed to trap a 6-feet-long snake at his brother M. Ranjith Kumar's home in the same neighbourhood.
The snake slid into the house from the Canal side; this does happen from time to time in the area.
He says, "For some time now, I have been noticing a snake move in and out of a crack at my brother's house. On August 19, I was sitting outside the home and I saw the snake slithering out. When I first tried to catch it, it jumped almost three feet to strike me. Luckily it missed me. Finally, I managed to grab hold of its head. I put it into a rice sack and handed it over to Guindy Park authorities".
Fear, he says, leaves him when he rolls up his sleeves to get the snake. "I started catchingsnakes about eight years ago. I watch carefully and dive in when the time is right," he tells us.
He remembers catching one outside Mandaveli railway station about three months ago.
Those who know of his skills ring him up when they sight a snake.
Vijayakumar, however, is disturbed by these frequent sightings.
He says, "A lot of children stay in this area. I remember the time when JCB machines were used to clean this area frequently. Not much is being done to clear  the debris here. That is probably why we have been seeing so many snakes in this area now. I do hope the situation improves".
He can be reached at 9176000781.
Reported by Preeti Srivatsan