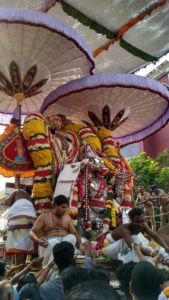 More than 2000 people gathered around the Mada Streets early today morning to participate in the Adikara Nandi procession.
S. Rajeswari, a resident of Mylapore, was there at 6 a.m. for the gopura vasal deepa aradhanai held just before the deity comes out of the eastern entrance of Sri Kapali Temple.
She says, "The crowd was well regulated and it was a good experience for us this year. The only issue was that people with cell phones were constantly clicking pictures and we had to often tell them to lower their phones so that we could get a good darshan of the deity".
A devotee who has been regular at this festival for decades talks about how the festive spirit is exactly the same as it was in the 60's.
He says, "I was a student at that time and though we had exams we would always allocate an hour or two to come and see the deity. The only difference is that in those days, devotees would lift the deity. Now a cart is used".