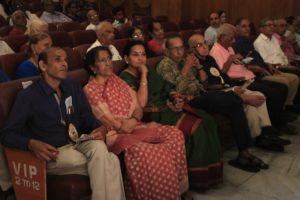 When members of the audience have to keep yelling to ask the actors on stage to speak into the mike because they are inaudible then artistes have certainly not got their act prepared.
It happened on Day Three of the Kodai Nataka Vizha of Kartik Fine Arts at a play by Arangam Arangam at Narada Gana Sabha hall on Tuesday evening. People had to call out at least thrice to alert one artiste. Even an impromptu cue as a dialogue from a co-artiste did not get the message across till sabha members doubled up backstage and got that message in.
Kodai Nataka Vizha may have its history in place and good intentions but the drama festival tends to be of average quality. Most groups do not seem to have had dry runs on the stage to get their moves and the audio communication right.
Most actors continue to stand in a row and deliver into mikes – theatre is at a minimum.
Perhaps, the quality reflects on the standard of Tamil plays that do the sabha circuit.
Photo here was shot on the inaugural evening of the festival.