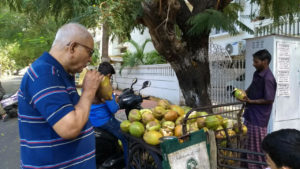 When you see a board at big shops that proclaim 'Fixed Price', it means bargaining is not entertained. But for 48-year-old tender coconut vendor N. Shekhar, it has a different connotation.
"There are senior citizens who have been buying coconuts from my family stall for many years. So I have frozen the price for them. Even though my cost price per coconut has risen to twenty eight rupees, I still sell it at the original rate of twenty rupees to these customers", says Shekhar.
To others, his prices stay stable.
Shekhar has been in Chennai for three decades: he used to run a shoe-and-bag repair shop in Luz. His father Natarajan used to sell tender coconuts outside the Amrutanjan office in Luz. After his demise, several years ago, Shekhar took to selling coconuts on his tricycle at CIT Colony and around Royapettah and Gopalapuram.
A regular walker, Abhiramapuram's Vidya vouches for Shekhar's ethics. "Usually vendors tend to jack up the rates when they see customers getting out of cars. This man sells us coconuts at the same thirty rupees, regardless of whether we come across as rich or poor."
– Report, photo by Sanjay Pinto / Abhiramapuram