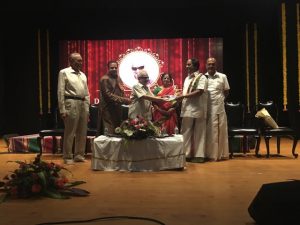 It was an evening to celebrate a milestone. Celebrating a man's 80th birthday is a warm, special occasion. Celebrating  a violin maestro's Big Day warms musicians, rasikas and fans too. And so we had the Sangita Kalanidhi-decorated artiste, M. Chandrasekaran also a Mylaporean made the star of at a special function.
The event was held at The Music Academy on Sunday, July 8.
Chitra Mohan, the eldest daughter in law of Chandrasekaran welcomed guests.
Bharat Kumar, a disciple of the guru rendered a few classical numbers. Then, followed by
the screening of a film on the violin maestro.
N. Murali, president of The Music Academy and arts promoter V V Sundaram spoke, sharing their experiences and moments with this maestro.
Highlighting the amazing career of a master who lost his vision to jaundice when just nine, lost his father soon thereafter and had to be brought up by his mother, who learnt Braille to teach the young Chandra and then recognised his music talent and taught him to play the violin – that was Charubala Mohan, whom the maestro remembers every year with a music fest and award.
Another vidwan who often chooses to have Chandrasekaran play at his concerts, T. N. Seshagopalan said at the function that though M. C. is 80 years old, he plays the violin with the spirit of an 18 year old! His sangeetha balam (power) is more powerful than his saareera (physical strength) balam!
The formal function was followed by a jugalbandi concert in which Ravi Kiran (on chitraveena) played alongside Sangita Shankar (violin).
Mohan Kumar, Ramanan and Murali, sons of Chandrasekaran besides daughter
Bharathi Gopalakrishnan were also present on the occasion.