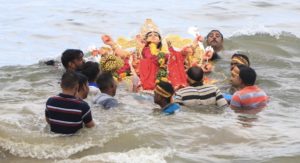 This immersion of the images of the goddess was a quiet affair.
At the end of the Dasara celebrations by the community of Marwadis, a small group of them transported the image of goddess Durga to the shore at Foreshore Estate, took part in simple rituals and then, the men carried it into the waters and immersed it.
This took place on October 19.