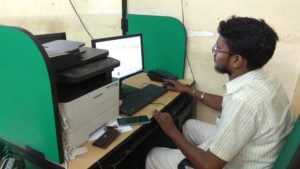 The e-Seva centre inside the Mylapore MLA office campus at C.P. Ramaswamy Road, Alwarpet has reopened on June 17.
The centre was closed for more than a month as there were no staff to work here. Shyam Kumar has been transferred here from the e-Seva centre at San Thome.
Shyam says, "Following pressure from Mylapore MLA R.Nataraj and our higher officials, they appointed me here."
But he says the many connectivity issues remain: the cuts in stationery items are still not solved. And the staff are also not satisfied with the pay."We are supposed to get Rs 9500 as our basic salary but, since last October we were getting only Rs 2000 or 3000 as salary. And for a couple of months I didn't receive a salary at all," he says.
"Recently, they introduced the biometric attendance system and asked us to feed our attendance in every two hours. But when the server is down our attendance doesn't get updated. And the higher officials use this to cut the salary," he says.
Shyam says they have made a number of representations to the officials at Chennai Corporation to solve the issues, revise their salary and make them as permanent employees."But nothing has changed. Recently, around 20 staff have left the job because of the low salary," he says.
"Since I'm a bachelor I'm able to manage, but people who have a family and other commitments are quitting and searching for better jobs," he adds.