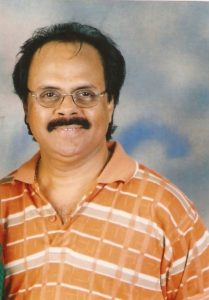 Wellknown playwright, theatreperson and film scriptwriter 'Crazy' Mohan passed away on June 10 after suffering a heart attack in the morning. He was rushed to Kauvery Hospital, Alwarpet after the attack and medical efforts failed.
He was 66.
The body was brought to his residence on Ammani Ammal Street, Mandaveli in the evening. The funeral is scheduled for Tuesday 11 a.m. at the Besant Nagar crematorium.
Born in 1952, Mohan Rangachari studied engineering at CEG, Guindy and showed up his creative talent even while at college, writing scripts for campus plays. He also wrote plays for his brother Maadhu Balaji who had a team in Vivekananda College, Mylapore.
His script of 'Crazy Thieves in Palavakkam' which was staged by Natakapriya troupe became a huge hit in 1972 and from then on, he came to be called 'Crazy' Mohan.
He launched himself fulltime into writing plays and went on to start his own troupe, Crazy Creations which has staged over 30 plays with 6000-plus shows across the world.
Mohan also dipped into cinema, with K. Balachander signing him first, to write for 'Poikkal Kudhirai'.
He went on to work with Kamal Haasan for a few films and the collaboration produced some milestone Thamizh films like 'Apoorva Sagodharargal', ' Avvai Shanmughi' and' Michael Madan Kamarajan'. He also acted in minor roles in some films.
He also produced TV serials and they earned him and his troupe a huge following – the serials are recalled to this day.
Mohan's more recent play 'Chocolate Krishna' was a huge hit with over 500 shows staged in record time.
His plays were known for clean humour that thrived on everyday life and Madras slang.
Mohan was simple, easy-going and fun to be with, relating to everybody who met him. He often said that Mylapore was his real home and that even if he had to stay away in Mambalam for a few days he would become homesick.
He supported many institutions and projects, mainly the Cancer Institute in Adyar.
The state government decorated him with the Kalaimamani award.