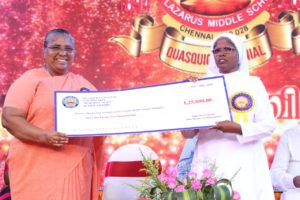 It rained heavily but the downpour did not dampen the enthusiasm of dozens of children, dressed for the occasion to go on stage and dance, swing and roll to thumping music. Their school was celebrating a big milestone in its history and they were in no mood to call quits or be disheartened by the empty, wet plastic chairs that had, earlier in the evening been taken by over 500 people.
St. Lazarus Middle School on Madha Church Road celebrated 125 years of its existence on August 28.
The day began with a thanksgiving Holy Mass said by Rev. Dr. George Antonysamy, archbishop of Madras-Mylapore. The nuns of the Bon Secours congregation took part in this indoor religious event. Over a special lunch, guests and nuns from different convents of Bon Secours made time for fellowship.
The evening's event was a public meet held in the open air of the convent premises.
Rev. Dr. Maria Philomi, superior general, presided and opened a symbolic sign signalling the milestone of the quasicentennial celebration.
She formally received a merit scholarship grant from the school's headmistress which was later given to 25 students of the school – Rs.5,000 to each.
Six families of students were also granted sewing machines – to help improve their earnings.
The chief guest for the function was Dr. P. A. Naresh, joint director, Department of School Education, Govt. of TN. Other guests included Mylapore MLA Dr. R. Nataraj.
Sr Emelda Mary, headmistress of the school and her team of teachers and volunteers curated and hosted the celebration.