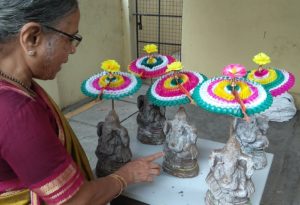 Mylapore based NGO Sevalaya is offering eco-friendly Ganesha idols at its premises in P.S.Sivaswamy Salai, Mylapore.
These idols made of vermicompost and clay come with tulsi, firecracker flower (kanagambaram) and other flower seeds immersed in them.
"After Vinayakar Chaturthi celebration, they can be placed in a clay pot with water and within a few months, it will sprout into plants," says a staff at the NGO's office.
The NGO has been making similar idols since a few years. The staff say that they are made by the people at their shelter located at a village near Thiruninravur.
On Aug 28, Saroja, a Mylaporean ordered one Ganesha idol from here as she did not want to pollute the environment by using idols made of plaster of paris.
The Ganesha idol along with a small umbrella and erukkam malai (crown flower garland) is priced at Rs. 200. To place an order contact 24982204 or visit the office at 54, PS Sivasamy Salai, Kattukoil Garden, Mylapore. Timings: 9.30 a.m. to 5.30 p.m.