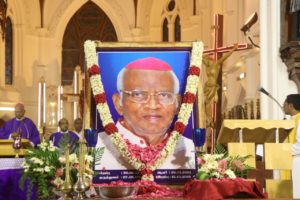 Bishop emeritus Rev. Anthony Devotta, who was born and brought up in San Thome and served as bishop of the Catholic diocese of Tiruchirapalli in Tamil Nadu passed away early on October 15 at a seminary there where he lived his retired years.
The funeral Mass was held in Tiruchi the next day and the body was moved to St John's Hospital, Bangalore since he had signed a body donation for study purposes.
Rev. Devotta was born on June 30, 1943, in San Thome in Chennai. His family managed the popular Ceylon Bakery here. He studied at St. Bede's.
He was ordained a priest in August, 1971. He was appointed Bishop of Tiruchirappalli in December 2000 and ordained as such in January 28, 2001.
He was the Vicar General of Madras-Mylapore archdiocese before becoming bishop of Tiruchirappalli.
He was the parish priest at many Chennai churches and went on to hold senior posts in this diocese.  He also taught at Sacred Heart Seminary, Poonamallee.
He resigned from the pastoral governance of the diocese of Tiruchirappalli in July, 2018 at the age of 75.
Rev. Chinnappa, archbishop emeritus held a Mass at San Thome Cathedral in memory of the late Rev Devotta on the evening of his passing. Photo here was taken at this Mass in San Thome.