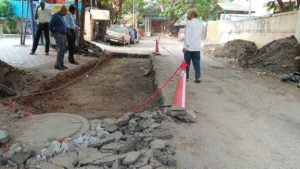 Chennai Corporation's contract workers have dug up large portions of the road at Abhiramapuram First Street in Mylapore.
The civic officials said it was carried out to fix the potholes on that road. The street used to have rainwater stagnating because of the bad conditions here.
Residents welcome the civic work but pointed out that the workers have unnecessarily dug up large portions, worsening the condition of the road which was already in a bad condition.
Resident Giridharan Kesavan says, "For fixing the potholes, work needs to be done only in the damaged area. I don't understand why they have dug large patches of the road that too for more than 8 inches (approx depth)," he says.
Some residents said that portions of the road which did not have any potholes have also been dug-up.
This work is happening as the monsoon sets in and residents fear rain could mess up the street. The residents here have been facing the problem of water-logging as this road usually floods after rains.
The Corporation assistant engineer of ward 123 said, "We are doing temporary patchwork to fix the potholes problem. At places where there are many small potholes, a larger portion of the road has been dug to facilitate the filling of concrete. However, at some places, the contract workers mistakenly dug large portions. We will rectify the issue and complete it as soon as possible."