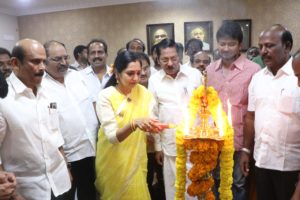 Chennai South Member of Parliament, Thamizhachi Thangapandian has officially opened an office in Adyar – a place where people of this constituency which covers most parts of the Mylapore area can drop off petitions, meet her at appointed times and take part in meetings she schedules here.
The office is in the Chennai Corporation campus behind the Zonal Office ( alongside the Adyar junction flyover) and on Thiruvengadam Street.
Udayanidhi Stalin, DMK's young wing head and DMK seniors were present at the formal event.
But the office is yet to be fitted with furniture, phone and have its own staff. The MP's aides said this will be in place by early December.