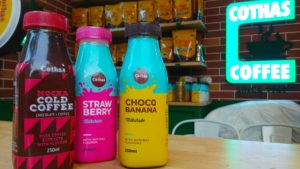 Cothas coffee at South Mada Street has introduced cold coffee, milkshakes and cookies in its menu.
The Bengaluru based coffee joint opened recently in Mylapore.
Banana and strawberry are some of the flavours available in milkshakes. The cold coffee is offered in the flavours of pure coffee and in combinations of chocolate, and hazelnut.
The shop also offers coffee in a cardboard thermos flask (450 ml) for people who may want to get their coffee parceled.
It is priced at Rs. 90. People can also bring their own thermos flasks to buy the coffee.
Ginger, salt and cashew are some of the cookie options available here.
All the milkshakes (250ml) and cold coffee varieties are priced at Rs. 50. The coffee is priced at Rs. 12. Coffee powder with different combinations of coffee and chicory are also sold here.
At 1, South Mada Street, Mylapore. Ph : 24618600.