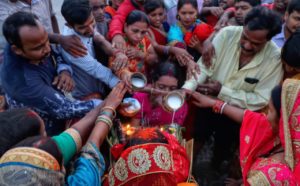 Hundreds of people gathered on the shores of the Marina early on Sunday to take part in the annual Chhath puja – a puja that goes back long in time and is said to be a thanksgiving to the Sun God.
Many north Indians, mostly from Bihar and UP gathered in groups on the shore and conducted the rituals; they then went down into the waters and prayed even as the sun broke out of the clouds.
For some time now, Chhath puja is being conducted here by the community.