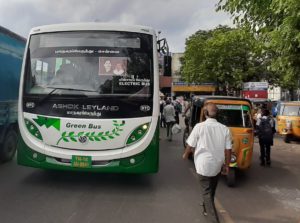 Tamil Nadu's first set of electric buses started plying the city a few months ago.
One e-bus, which is also air-conditioned is operating on A1 route of MTC (Metropolitan Transport Corporation) which runs from Central to Thiruvanmiyur via Mylapore.
In the Mylapore zone its stops are at Royapettah High Road  – Valluvar Silai – Luz-  Sri Kapali Temple tank- Mandaveli post office – Mandaveli junction – Sathya Studios (Durgabhai Deshmukh Road) on this route.
The 'green' bus is gaining popularity as the prices are almost similar to MTC's regular bus on this route. Says Kavitha, a resident of Mandaveli, "This bus is very convenient as it is quite spacious. Its fare is also very close to MTC's regular bus fare."
The Tamil Nadu government launched the white and green coloured bus with the aim of reducing air pollution.

Every day the bus makes 16 trips starting at 4 a.m. from Central. The fare for travelling from Central to Thiruvanmiyur is Rs.30. And that of Mylapore to Central is Rs 21. To travel from Mylapore to Thiruvanmiyur the fare is Rs. 23.
Manufactured by Ashok Leyland, the bus runs on a battery. Says the conductor of the bus, "Currently, the charging point is present only at the central depot." Once it is charged fully, he says it can travel continuously for 50 km.
The green-colored carpet spread at the bottom of the bus provides a grip to people who are standing. The fully air-conditioned bus has a capacity of carrying 50 people. It has several features including, GPS tracking facility, mobile charging point, fire-extinguisher, two emergency exit points, and a first-aid kit. In addition, an emergency-alert button is placed in each row of seats.
On pressing it, the conductor says a sound would echo throughout the bus. This will alert all the persons on the bus, including the driver of the emergency or petty crime, he says.
Photo courtesy: twipu.com