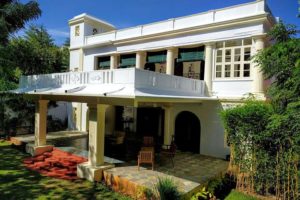 A three-day cultural festival called CUSP, offering a mix of talks, discussions and concerts opens at the heritage Luz House in Luz, Mylapore on January 31 morning.
The festival is curated by First Edition Arts and a group of Hindustani and Carnatic classical musicians
and features some 50 musicians, speakers and performers from all over India.
A note from CUSP says – Through the course of the festival, art will be examined through the lenses of philosophy, gender, politics and protest, and pedagogy, among other areas. Audiences will be taken behind the scenes to understand the wealth of artistic processes, back-stories, and personal journeys of musicians and artistes, and interactions between artistes and audience.
On Friday, Jan.31, the evening concerts feature Rama Ravi and Nanditha Ravi, highlighting the veena Dhanammal tradition and later, one by the Carnatic Quartet featuring artistes on the violin, mridangam, nagaswaram and tavil ( all concerts are ticketed – Rs.500 per day).
On Saturday, Feb.1, 9 a.m.onwards, Chennai-based researcher and story-teller V. R. Devika focuses on Gandhi and the 1.30 p.m. discussion session is on 'Gender and Expression'. The evening concerts are a sarod-veena concert at 4.15 p.m., a Kuchipudi recital at 6.30 p.m.and at 8 p.m. a Hindustani concert.
On Sunday, Feb.2, there is a Hindustani concert at 9 a.m. and a solo theatre show at 11a.m. – both are ticketed. Later, at 12.30 p.m. there is a talk on 'Personal Food History of Punjab and the Partition' followed by a special Punjabi veg. lunch ( to partake of this lunch one must pre-order/register).
That evening, concerts are a flute-violin duet ( 4 p.m.) and a Villuppatu – Carnatic music duet ( 6 p.m.)
At the core of the fest are Ranjani Ramachandran (Hindustani vocalist from Santiniketan), Priya Purushothaman (Hindustani vocalist from Mumbai), Abhishek Borkar (sarod artiste, from Pune), Praveen Sparsh (mrdangam artiste, from Chennai) and Brindha Manickavasakan (Carnatic vocalist from Chennai).
The Cusp festival is being extensively documented. Aesthetically made films will all eventually shared on the First Edition Arts YouTube channel for free.
● All performances are ticketed at Rs 500 per day. Tickets will be available on BookMyShow.
● Talks and workshops are by registrations. Use this linkhttps://thecuspfestival.typeform.com/to/QHxtqu
● For more details contact – thecuspfestival@gmail.com | 733-8733190
Photo used here is of Luz House