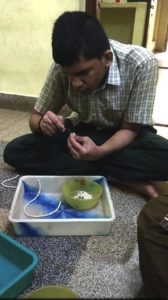 Ekadaksha Learning Center which is based in Jeth Nagar in R. A. Puram and educates and trains children with special needs is holding an exhibition of all the products made by some of these children.
The event is on Feb.9 and daylong and it invites people to come by, understand the work carried out here and also buy the products on display and for sale here.
There will be a variety of products made by the pre vocational young adults which is part of the pre-vocational curriculum here. Diyas and book-marks, decorative plates, candles and fancy jewellery, bags and purses and more.
Ekadaksha's team says its mission is "to provide children with special needs the means to explore, express and experience. To work hand in hand with parents and other professionals who form the core of the child. To create awareness in the society about children with special needs".
Actor-director Revathi will launch the show. On from 10.30 am to 4.30 p.m.
This centre is at No.3, Jeth Nagar 1st Main Road, R. A. Puram. Contacts – 24950831 / 97909 12759.
The Ekadaksha team is made of Bharathi, Archana, Bindu and Kanaka. It launched this centre in 2010.