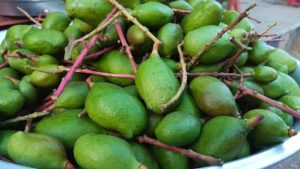 Though summer is yet to arrive, the season's special vadu mangas (baby mangoes) have started arriving at South Mada Street in Mylapore.
A few hawkers have decked up piles of the dark green and tangy Coimbatore vadu mangas here.
This evening, Mylaporeans were seen stopping by their shops, to check out the vadu mangas and its price.
In addition, the hawkers also have Andhra 's avakkai manga, thokku manga, Tanjavur mor molaga, and manga inji.
Says Kavita, a hawker, "Every year, vadu manga starts arriving from February 15 onwards."
A number of vadu manga varieties including Madurai Alagar kovil vadu, Madhavaram vadu, and Kumbakonam vadu will arrive by March first week, she says.
A kilo of Coimbatore vadu manga is priced at Rs. 300. "Since it's the start of the season prices are high. When more vadu mangas arrive the prices will reduce,"she says.