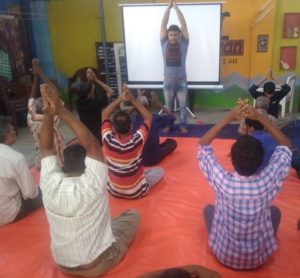 Yoga and movies are keeping the inmates at San Thome's Banyan shelter occupied in this lockdown period.
The Banyan NGO shelters around 40 mentally challenged men here.
The NGO has been training these persons in vocational skills, like tailoring and carpentry so they could come out of their mental health issues and earn a living on their own.
However, following lockdown, the vocational training activities at the shelter had to stop.
Says Adarsh, co-ordinator of the shelter, "This is because the staff providing the training could not come due to lockdown restrictions. Hence, we are now engaging our community in yoga and movies. I teach them small yoga exercises in the mornings. Also, a group called 'Chennai Volunteers' teach them yoga online via Zoom."
For screening movies, the shelter has set up a projector in their carpentry area.  "We take appropriate precautions during the movie screenings. To maintain social distancing, the inmates are seated away from each other. "
He says that Thamizh movies are screened in the mornings and the afternoons are reserved for Hindi movies. "In the evenings, we also encourage them to play badminton and board games. In addition, we are also equipping them with life skills like cooking and personal hygiene," he says.