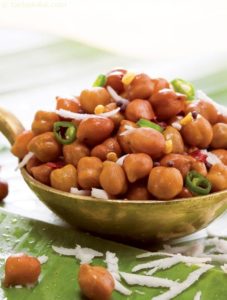 Young couple Prashanth and Krithika are back to selling homemade sundal and pidi kozhukattai outside their house on C.P. Kovil Street in Mylapore.
The duo started selling simple, homemade snacks – sundal (black and white), pidi kozhukattai in September last year. Soon, their business grew by word of mouth and the couple got a lot of regular customers.
"Our passion is to open a small food business. We want to serve healthy food to people at nominal rates, " Prashanth had said at the time of opening his business.
However, their business had to stop after the lockdown. A few weeks ago, the couple re-opened their shop after the government allowed small eateries to provide takeaways.
"As we got a good response soon after we started, we want to take our business forward and start a small mess in future," Prashanth says over the phone.
Back then the couple, who work for different firms used to sell sundal in the evenings during their free time. Now, Prashanth says they run the business after 12 hours of working from home.
We are able to manage the business in this tight schedule as we have the support from the entire family, he says. Prashanth's mother makes the snacks, and his wife and father help him in packing and serving.
To prevent the virus spread, they have also put in place several precautionary measures. Says Prashanth, "Even before the virus spread, we were using gloves. Now, in addition, we are also wearing masks. Customers are also asked to compulsorily wear a mask and keep distance."
However, due to lockdown, he says getting raw materials has become a challenge. "There is a shortage in supply of raw sundal. We are having to order them from vendors at least two weeks in advance."
Also, their customers have dwindled as all nearby temples are closed, "But we are happy to serve even if one person drops by."
The sundal varieties are priced at Rs.10. Kozhukattai costs Rs 20 for 4 pieces. Rava kesari and ghee kesari are also available. Open on all days except Sunday. Only takeaways available. Timings: 5.30 p.m. to 7 p.m. Ph: 9962836436.
The lead for this story came from Baskar Seshadri; Picture courtesy: www.tarladalal.com/