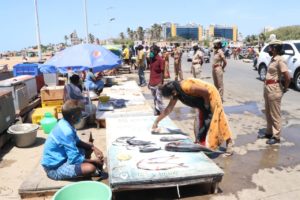 To prevent crowding at the fish market off Marina Loop Road, Foreshore Estate police have started holding discussions with community leaders of local kuppams here.
Dozens of fish hawkers, especially women from the nearby kuppams including Patinapakkam and Nochikuppam sell fish on the sandy side of this road.
On Sunday (June 14), women police personnel were deployed to regulate social distancing at Patinapakkam fish market.
The police had to take this step as shoppers have been crowding at this market to buy fish, especially on the Saturdays and Sundays.
A police officer attached to Foreshore Estate police station says that 15 policewomen are taking turns to regulate social distancing on weekends from 7 am to 10 am, when the crowd is high at the market.
Says the police officer, "Though we are regulating social distancing on weekends, we cannot be manning the market all the time. Hence, we are holding discussions with the community leaders of the kuppams. We have asked the leaders to spread COVID-19 awareness to the fish hawkers so they can regulate the crowd by themselves. It will be good if shoppers also self regulate."
On the advice of the community leaders, he says the hawkers have started enforcing social distancing. "But we will be monitoring until they strictly regulate social distancing at their shops. "