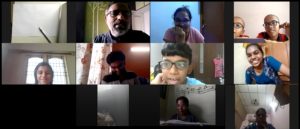 When Shivkumar, the founder of Mandaveli based NGO Karam Korpom started putting out snappy drawing tutorial videos on Facebook little did he know that people from across the country would participate in his classes.
For a recent drawing workshop that Shivkumar conducted on Facebook people from Delhi, Assam, Kolkata and even Doha have participated.
Says Shivkumar, a resident of Mandaveli, "I was amazed to see such widespread participation. Soon, after I started putting out drawing tutorials on Facebook, through word of mouth, many people started following my classes."
In late March, after the lockdown, Shivkumar started putting out these videos online to engage people, especially his NGO's volunteers in drawing.
Since then, Shivkumar says he has seen enthusiastic participation from people. "People across all ages, especially children have been participating in my classes. All are very interested to learn drawing."
"In fact, many children expressed their willingness to pursue their career in the Arts field. And parents too wanted to know the scope of the field. Hence, I also held a one-hour session outlining the career opportunities in Fine Arts, which was widely appreciated as well."
Shivkumar has also been holding drawing workshops on zoom. So far he has held workshops on human figures and portraits.
Says Shivkumar, who is also an e-learning consultant, "I make all sessions very interactive. People show me their work and I too suggest changes/corrections. Also, I take only 20 participants in a zoom session so I can provide individual attention to all. People also send me their finished work on WhatsApp."
The entire experience has been very enriching for Shivkumar too. "I have learnt many new things as well," says the artist who has learnt much of his drawing skills through experience. Though his NGO has not been able to hold wall painting activities due to lockdown, he is happy he could translate his knowledge in another medium and help people.
This weekend Shivkumar is conducting a Doodle Art Workshop. "I chose this topic as Doodle can act as a stress buster especially to IT goers. It does not require any prerequisites. Just a pen and notepad would do."
The Doodle workshop is on June 13 and 14. It will be held on Zoom. Timings: 3pm to 5pm. For details contact, Shivakumar at 9840062722.
Details of his workshops can be viewed on his Facebook page – artunwynd
Picture Courtesy: Facebook page – artunwynd