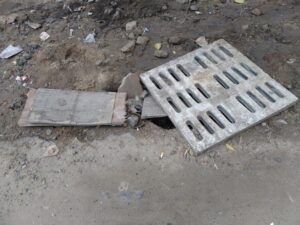 Residents of Ramakrishna Nagar zone say that a civic project undertaken in this area has been left incomplete and is posing problems to people and motorists.
They say that a storm water drain was  constructed on Kamarajar  Salai in R A Puram. After constructing the drain, the finishing work of filling the gap between road and the storm water drain has been left half-done and incomplete.
They say that the gaps were filled with loose soil that was excavated for the job but this is bound to create messy issues.
They say that last week, when it rained the soil was washed away resulting in big, gaping potholes and one vehicle was stuck in the pit and with great difficulty it was lifted.
This messy civic job is in front of Sankara School on Kamarajar Salai.
– Report and photo by S Rajagopalan, Ramakrishna Nagar