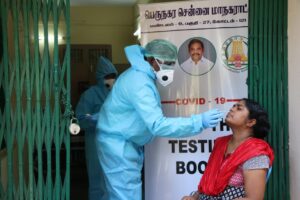 In an effort to provide faster access to virus testing, Chennai Corporation in early July had set up a sample collection centre at its AIDS prevention and control society at R.H. Road in Mylapore.
The centre, located near Thiruvalluvar statue on this road continues to carry out its operations now.
Health workers say they collect swab samples (throat swab or nasal swabs) of some 40 symptomatic persons here, daily.
Besides they say that Covid (sector) workers, who go around the neighbourhood to identify residents with virus symptoms (fever, breathlessness, cough) also mobilise fever and ILI (Influenza-Like Illness) cases to this centre, for sample collection.
"Samples collected from fever camps, local health centres, and mobile swab collection units, organised by local Wards (Ward 122, Ward 123, Ward 124, Ward 125 and Ward 126) are also sent to us."
In all, the workers say they get a total of 150 samples per day. This includes the 40 samples that the centre collects daily. All samples are then sent to government hospitals for testing, they say.
Currently, the team says they send the samples to Government Multi Super Speciality Hospital at Omandurar Estate for testing. "However, once in a few weeks, we change the hospital to which we send the samples."
This is how the sample collection takes place.
Once a person walks in for a virus test, he/she is asked to sit on a chair kept near the entrance. The person is then required to fill a form with details like name, address, phone number and virus symptoms if any.
Later, a nurse clad in PPE (Personal Protective Equipment) kit collects his/her throat or nasal swab, after which it is stored in a container, that is later preserved in an ice-box. This ice-box is then sent to Government Multi Super Speciality Hospital in Omandurar Estate for virus testing.
At the hospital, the workers say Reverse transcription-polymerase chain reaction (RT-PCR) test is performed over the samples. And the result (positive or negative) is sent as a message to the concerned person's phone number after two to three days. "A message is sent even if their test result is negative," says a health worker here.
The centre is open from 8.30 am to 3 pm on all days except Sundays. People who have virus symptoms may also independently walk-in for sample collection here. It is done free of cost.
Picture is a file photo of sample collection at this centre;