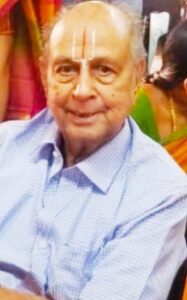 K. Seshadri Iyengar, a retired banker and a senior Mandaveli resident, passed away at the age of 91 years on January 1.
He was a resident of Srinivasan Street, Mandaveli for some two decades.
He worked for the TN Central Co-operative Bank in Thanjavur for some four decades and moved to Chennai after his retirement.
Seshadri then went about using his skills to match horoscopes, mainly for clients from the Iyengar community.
Says his son-in-law, "He had the skills to read horoscopes and was happy to make match-making."
His family said Seshadri arranged the weddings of over 600 people and he did all this as a voluntary, community service. He used to help people from across the city and outside and soon, he came to be known locally as 'Mandaveli Seshadri Mama.'
Such was his fame that one match-making service honoured him for his voluntary service.
 He is survived by his wife, a son, and three daughters. The family's contact – his daughter, Shanthi – 9003066784 – who resides in Mandaveli.