DMK leader and parliamentarian Kanimozhi was on a hurricane campaign tour of the city and stopped on Mylapore's Mada Street to make a speech and canvas for her party's man, Dha. Velu who was seen standing next to her in the campaign caravan.
A goodly crowd, mostly party cadres and onlookers surrounded the van and listened and cheered. Like many others, Kanimozhi took broadly highlighted the DMK's manifesto issues and localised a few ones.
We are told DMK leader M. K. Stalin also plans to stop by, probably on April 1.
Last evening, AIADMK leader and CM, Edappadi Palaniswami had stopped opposite the Sri  Veleeswarar Temple, Mylapore candidate R. Nataraj by his side to canvas for votes.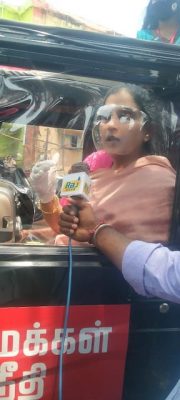 Meanwhile, Makkal Neidhi Maiam's candidate Sripriya made the rounds of the San Thome kuppams this morning, from her van, fully masked.
Residents in the heart of Mylapore said that Naam Thamizhar Katchi's Muthulakshmi has not been seen around but small bands of the NTK cadres are doing street level campaigning for the party's candidate.