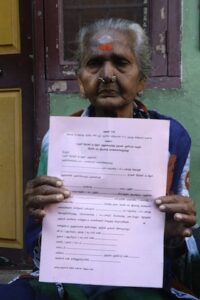 The process of postal ballots has been rolled out today.
Chennai Corporation led by its commissioner Prakash was in the Mylapore colony around Mundagakanni Amman Temple and Ramakrishnapuram to hand over a form to three people who are eligible to vote by postal ballot.
Three seniors and a less abled person were given Form 12D, the consent form that is to be filled in and returned.
On poll eve, officials will drop by to collect the marked ballot in boxes.
This process is open only to seniors 80 years plus, the less abled and corona affected sick.
Officials said that from the weekend, the forms will be distributed across the areas.