Even as the polling process had its highs and lows in the April summer, there was a sunny story shared by the faculty of Clarke School for the Deaf off Dr. R. K. Salai in Mylapore.
Two less abled youths who are skilled at Clarke School ( at its Sadhana Unit for deaf-blind) voted on April 6 morning at booths near home.
Arihant who is deaf-blind did so at a booth in Pursaiwalkam; the use of tactile sign language helps the communication.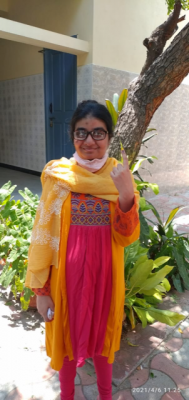 Shazia Fathima, uses her residual vision to communicate and understand. She cast the ballot at a school in Royapettah.
On a .day when thalaivars, actors and VIPs hogged TV space and the media hopped after these people, there were also unique stars like the duo who chose to honour their responsibility.
– Photos shared by Charke School team