On the final evening of the 10-day Panguni Brahmotsavam at the Aadhi Kesava Perumal temple, over 30 acharyas and azhvaars led a grand procession around the four Mada Streets of Mylapore.
They were followed by Mylapore-born Pey Azhvaar with Kesava Perumal and Andal seen in a grandly decorated 'Periya Theruvadaichaan' Chapparam.
While over 30 idols made their way into the South Mada Street, residents expressed their displeasure at cars and other vehicles being allowed into the street without any restrictions when such a sacred procession of the Vaishnavite saint poets and acharyas was taking place as part of the Brahmotsavam.
Sridhar Bhattar, who has been anchoring all the processions, constantly driving the Sripatham and drum beaters, played the mediator and made peace with the residents allowing the vehicles to move along either side of the idols.
In such a strenuous 10 day exercise, when he has had very little sleep, his effort through the utsavam has been commendable.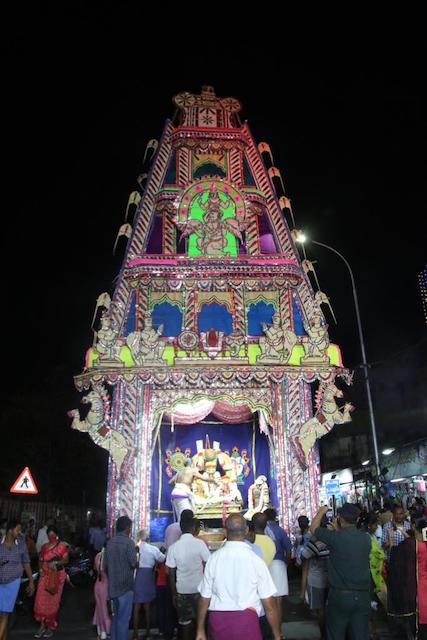 Every evening, he has been there right from Pathi Ulathal just after 6pm  till the end of the  street processions
 staying start to finish ensuring that the events went as per plan. When some of them went down tired, he
was always there to encourage and inspire them to see through to the end.
It was well past 10pm on Wednesday night when Kesava Perumal, Andal and Pey Azhvaar made their way back into the Raja Gopuram after a long Voyali performance by the Sri Patham in the Sannidhi Street bringing to end the Brahmotsavam.
Beneath the raja gopuram, the service personnel were seen congratulating Trustee N. C. Sridhar for the successful conduct of the Brahmotsavam.