"We don't have words to express our plight.
How do I express it? Who will help us?
When is this going to end?"

Words of helplessness from street hawkers in the Luz Circle area.
This is the story of  flowers hawker Ammu
"It is my birthday today, still I came to work at 2 p.m. and it's 5:30 p.m. now. I've not even sold for 10 rupees yet," says Ammu, 44-year-old who started selling flowers at13, and now sits in front of the Nalli store,.
She says her great grand mom had a street food stall where Max store stands today, and she used to be there since her childhood. She says her craze on flowers made her stop going to school.  Then she got married, and from that day it was her husband who bought flowers from Kotwal Chavadi and she would sell them. She has 3 children, and all of them are married.
"After the end of last year's lockdown, the sales were pretty good, but this year for the past two weeks, it has been bad,' she says. "If there is no movement of people we wont have sales."
This is the story of Ezhumalai
Ezhumalai, 50, used to be a auto driver, and has a family of 5 members. His aged mother's medical expenses who is a heart patient shoots up and his two kids are still students whose fees must to be paid.
The past weeks, he has not been hired often. So, he started working in a small firm for daily wages to meet his daily expenses.
"One of our relatives passed away yesterday; he was undergoing treatment for Corona. I don't want to leave my dependent family on road by me getting affected with corona virus and having an untimely end. So, I always fear stepping out and even if I do, I wear a mask always," he said.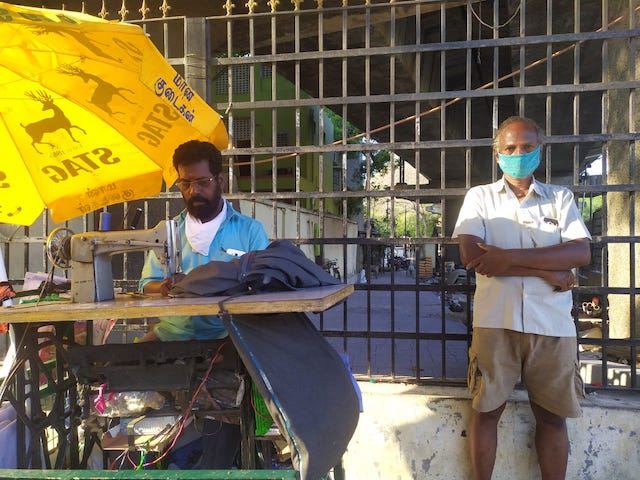 This is the story of Nagaraj
Nagaraj, 50, is based on Kutchery Road; he has been here he says for the last 15 years, with his tailoring machine. His son doesn't go for work and his daughter is married. His business has dropped of late and rarely does he earn about Rs. 200. 
"In the good days I would earn as much as 1000 rupees. Imagine the situation now," he says.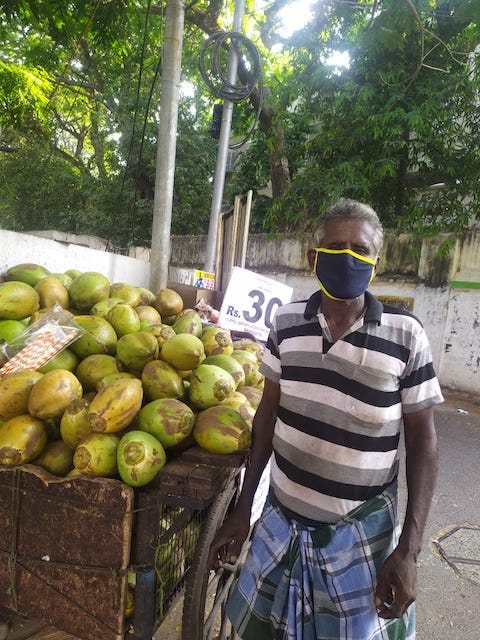 This is the story of Pichai
62-year-old Pichai, who hails from a village in Sivagangai district  came to the city some 6 years fleeing from the after-effects of many years of drought, and now sells tender coconuts. 
"Sales are dull now. I get frustrated often but what can I do?", he says at his cart on Kutchery Road's east end.
This is the story of Vani
"We are four daughters. My dad passed away; my mom was the one who took care of us. My elder sister's husband passed away. She has two daughters and I've a daughter. We all live together," said Vani, a 30-year-old, who  has been selling vegetables for 8 years opposite Thiru Myilai  MRTS railway station.
Every day her mother goes to the Koyambedu market at 3 a.m. to buy vegetables. Earnings have dived down. "If people don't move about what sales will we have?"
She says even the ration items don't reach them properly as they are asked to come again and again for hiccups at the shops. "When things go bad they go real bad," she says.
Report and photos by Aishwarya R.