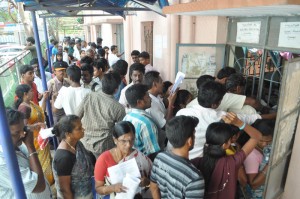 If you need to make alternations in your Voter ID Card or apply for a fresh one or record a change of address if you have moved into the Mylapore area, you have a few more days to work on this.
Chennai Corporation officials involved in the State elections to the Assembly due on April 13 said last weekend that their office will accept forms till March 15.
There were long queues at the Zone 10 office in Adyar (alongside the flyover) on L. B. Road on the weekend. Though it was a second Saturday holiday for staff, a few accepted forms and answered queries.
"We cannot assure you that fresh Cards will be issued or changes made in the cards before the election but we will accept the forms, " an official said on Sunday.
This zonal office handles issues related to the Mylapore constituency as well as the Velachery constituency which covers Adyar, up to the Adyar river limit.