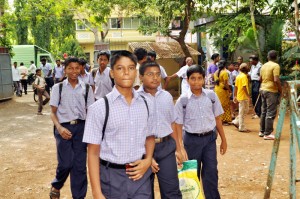 As local schools reopened this week after the summer vacation, the recent developments on fee structure in private schools, admission guidelines and such issues were on top of the minds of students and their parents, teachers and school managers.
At Vidya Mandir, Luz the school principal Bhavani Raghunandhan stated that the fee structure has been communicated to parents and classes have begun. If we are asked to change our fee structure, we would appeal again, she stated.
At Sri Venugopal Vidyalaya H. S. School, Mandaveli the fee for the first term has already been collected. "Since we have not received any information about the fee structure we have collected the same amount that was collected last year," says Suriyapradha, office assistant here.
S. Jessi Esther, principal of Rani Meyyammai Girls H. S. School said that the school has been collecting what was done last academic year. If there are any changes we will inform the parents.
The office staff at M.Ct.M Higher Secondary School on Luz Church Road refused to give any information about the school's fee structure.
Parents whose children are studying in the neighbourhood schools were keen to share their views on the issues.
M. Geetha mother of two sons and a resident at Dr. Ranga Road said that her son's school had asked them to pay the fee that was prescribed last year.
Since there are no prescribed textbooks they are taught the basics in their respective classes, she says.
Babu Alexander a resident of Karaneeswarar Koil Street stated that he was asked to pay the full year's fee at his son's school in San Thome.
He also said that the school's authorities had said that there would be a hike in the fee by 10% to 30% depending on the decision by the 'Private School's Fee Determination Committee'.
K. Sasikumar of San Thome says that his daughter's school has already asked them to pay fee for a year.
"The school has not mentioned about fee rise so I cannot say anything about this," he says.  He also stated that there would be no formal classes held for the next 15 days as textbooks have not yet been issued.
Another parent, a resident of Mylapore who wishes to remain anonymous said that her daughter's school had asked her to pay Rs.10,500. "I do not know if this will be the final amount we must pay as fees," she added.