This is the final part of the feature on people who have unique collections of Lord Ganesha.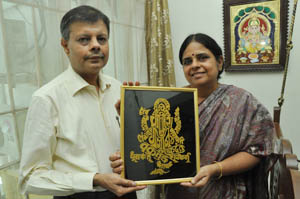 Chaya Venkataraman is 45 years old and takes part-time Accountancy tuitions at home.
She has a painting depicting Ganesha with Mushika, written in 16 different names of Lord Ganesha in golden colour. It was a gift from a doctor friend from Ahemdabad.
Her other image depicts Lord Ganesha resting on his back and reading a book with one leg on the other, is made of 'Ma kal' and weighs half a kg. She bought it from Kumbakonam for Rs.50, in the year 2000.
She and her husband have been collecting these images for the past 20 years and today they have about 250 images.
(Photo left: The Venkataramans)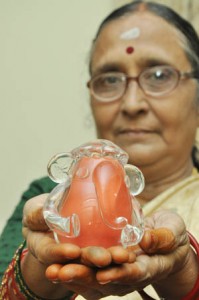 Shanthi Narayanan, is 60 years old and is doing voluntary service at Tamil Nadu Brahmins Association, R. A. Puram.
She has an image made of glass which she says was gifted to her by a relative who returned from Italy, five years ago.
There is a gold plated broche cum pendent decorated with Zircon stones gifted by her brother's wife. This is one among the other 786 images at her residence in Bheemana Mudali Street.
(Photo left: Shanthi)
Kalyani Muralidharan, is 63 years old and is retired Cordinator of The Ashram School.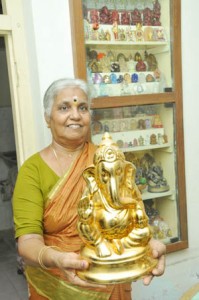 She now conducts shloka classes at her residence in CIT Colony.
She has 400 plus images.
She has an image made of glass, polished with golden colour paint. She says that it weighs 1 kg and is 10 years old and was bought in Hyderabad for Rs.250.
Her other image of is made of terracotta which is placed in the middle of a papier mache hand fan and is 9 years old. She says "I bought it when all teachers of the school had been to Rajasthan on a tour on the occasion of their school's anniversary".
Padma Prakash, is 51 years old and is a homemaker. She is a resident of Karpagam Avenue, Santhome.
She has an image depicting Ganesha dressed-up as child Sri Krishna.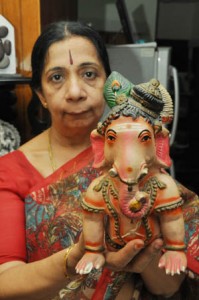 She says that she had no second thoughts in deciding to buy it, from a vendor at a Mada Veethi near Sri Kapli Temple, Mylapore, 8 years back when she was shopping for Navarathri kolu. "I like the hair-do of this image, the peacock feather on its head adds a special interest to admire it. I bought it for Rs.150 and it is made of paper pulp. Its trunk is torn but I consistently use glue to stick it back as I am fond of it. I call it Kutti Pillayar" says Padma.
She also has a stone image which has a face made of a plastic spoon.
These image collectors are excited to have their images. We can only less imagine how excited their sculptors would have been.
To access the previous file online click here for Part-1 and click here for Part 2.