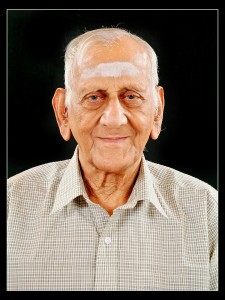 V.G. Sundaram passed away on July 17. He was aged 102.
V.G. Sundaram (Badaa Thatha to his great grand children), popularly referred to as 'London Sundaram,' was born on Oct 16,1913 to Meenakshi and Gopalaswamy in Viravanallur, a small village in the Tirunellvelli District. He was their youngest child with two elder sisters Gomathi and Maragadam. After receiving his primary education in Viravanallur, he joined St. Xavier's College, Palayamkottai. He then continued his education in Presidency College. Madras, where he met his future father-in-law, P.P.S. Sastri. He married P.P.S. Sastri's daughter, Visalakshi in 1933.
After his graduation, he got selected by General Electric (GE) to study Radio engineering in London. He lived as a student in London for about two and a half years. However, as ill luck would have it, his studies got disrupted due to the outbreak of World War II and he had to return to India.
On his return, he took up a job with the Govt. of India and was posted in Calcutta. His work involved active support for the war effort of the government.  On India attaining independence, he was assigned to the Directorate General of supplies and disposals [DGS&D] . He continued to work for the government in Calcutta until he retired as the Assistant Director in 1972.
He had four daughters Meena, Lakshmy, Saraswathi, Lalitha and one son Gopu. He and his wife moved to Chennai in the year 2000 to stay near his daughters. He had been staying in Karpagam Avenue and Abhiramapuram with either of his younger daughters Late Dr. Saraswathi Sundaresan and Lalitha Chandrasekharan for the past 15 years. He celebrated his 100thbirthday with great vigour in 2013, surrounded by his children, grand children and great grand children.
He had very good memory and would regale people with tales right from his childhood, and amazed people with his ability to solve the daily crossword right till the end. A cricket enthusiast and a fan of Sachin Tendulkar and M. S. Dhoni, he followed the game till the recent Zimbabwe series. He recorded everyday of his life with the help of a diary, and would turn to his diary at the end of the day no matter what. His warmth, affection and kindness towards one and all will never be forgotten by family and friends.
His family members can be contacted at 41/6, Subramanium Street, Abhiramapuram, ph: 24994740, 9677178052 or at 113, 4th street Karpagam Avenue. Phone: 24937989, 9380766746.