A few weeks ago, we had carried a report about Mission Compassion – an endeavour by a group of students of Vidya Mandir to help underprivileged kids. Two book sales were carried out by these kids in the last few months. And the proceeds from their sales have been put to good use.
'Between both the sales we managed to make around Rs. 15,000 which we used to buy juggling kits for children of Eureka School through Aid India. These kits are used fruitfully to increase focus and concentration in otherwise disinterested or demotivated kids. It also acts an incentive for these kids to come to school', Sharanya Govind, one of the parents who coordinated the efforts.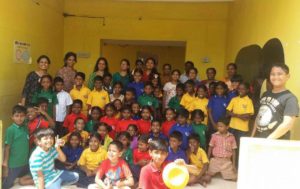 'Last week, we took the kids and went over to the school to spend some time with them. We were welcomed with a lot of warmth and enthusiasm by the school. The children there put up a show of their juggling acts and also taught us a few. We would like to thank all those who helped us in this endeavour, whether by donating books or even buying from us', she adds.
To read about Mission Compassion, go to: https://www.mylaporetimes.com/2017/05/these-kids-collected-and-sold-books-to-raise-money-for-a-good-cause/