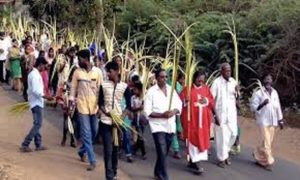 Churches in the  neighbourhood are preparing for a key event in their calendar – Holy Week. A week which commemorates events leading to the condemnation, death and resurrection of Jesus Christ.
The Week starts this Sunday which is called Palm Sunday, again a day on which a certain event in the life of Jesus is recalled.
At all local churches, the congregation which attends the first set of Masses at the church, which will be in the morning take part in a short procession around the church campus and carry fresh palms. The Mass follows.
Maundy Thursday, Good Friday and Holy Saturday and Easter Sunday also form the holy Week and all churches will have special services.