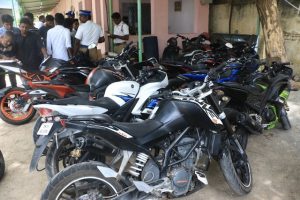 Abhiramapuram police have much of their hands just now – they are dealing with dozens of cases of rash driving by youths who race their bikes in the San Thome – Adyar area.
The past week, they have had to intercept many racers near the Thiru Vi Ka Bridge after people complained of dangerous driving by youths, some indulging in stunts too.
While some bikers have been sent home with their bikes after they had to bring their parents to the police station, now stationed inside the campus of Mylapore Tahsildar's Office on Greenways Road, others have to face cases slapped on them.
Meanwhile, motorists using the bridge section of the road say that metal dividers used by the police to slow down racers and direct traffic at peak hours are dumped haphazardly on the medians and these can cause harm to them.