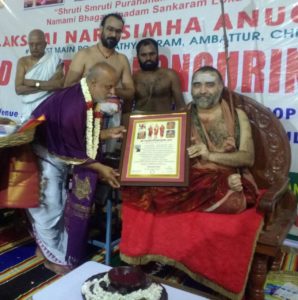 Swaminatha Ganapadigal, a resident of Mylapore and  teacher at the Veda Padasala on Pitchu Pillai Street, Mylapore  has been awarded  'Veda Prachara Rathnam' by Sri Vijayendra Saraswathi Swamigal, the Kanchi acharya who is now camping at a school in Thoraipakkam till May 29.
Sri Lakshmi Narashima Trust honored nine Vedic scholars on May 15 – these have excelled in the Vedas and contributed towards dharmic welfare.
Among them was Swaminatha Ganapadigal – awarded for strengthening the  vaidheega community by way of bringing up a number of disciples who have gained name and fame for their clarity in Veda chanting.
Ganapadigal's family said that at the awards event, the Kanchi acharya also recalled the efforts they took to open the Mylapore padasala.
Krishnamoorthuy Sasthrigal, principal of Madras Sanskrit College graced the event.
Swaminatha Ganapadigal practised Vedha adhyayanam since his early childhood. He became the vadhiyar of Pitchu Pillai Street padasala at the age of 26. Kanchi mahaperiyaval Sri Chandrasekarendra Saraswati swamigal insisted that he teach at the padasala. He managed the padasala for 35 years. Now, he is also the advisor here.
He has travelled across India and has been recognised for his scholarship and teaching.
He was also closely associated with Kanchi Maha periyaval Sri Chandrasekarendra Saraswati swamigal whose advice he followed to visit many villages and spread the Vedas there. He has some 50 sishyas in Chennai and outside.
He is now 63 years old.
Ganapadigal's address is – 7/27, J Aparts, Devadi Street, (behind Sukumar Associates) Mylapore. Cell: 94440 47296.